Father commits to fighting addiction and preventing overdoses
May 31, 2017
Grant takes special interest in MUSC's focus on the science of addiction, the way the center treats alcohol and drug abuse as a condition of the brain and not a lifestyle choice. "I like their mission," he said, "and I like that they're on the road talking to people." view article | PDF
WYFF News 4's Myra Ruiz
How will golf and the cool stuff sitting on the table help save lives? Greenville Family Partnership and Steve Grant, founder of the Chris and Kelly's HOPE Foundation, about the annual 2017 Red Ribbon Golf Classic! Posted by WYFF News 4's Myra Ruiz on Sunday, April 23, 2017
A Legacy of Hope – November 15, 2016
by Ron Wagner '93, Senior Contributing Writer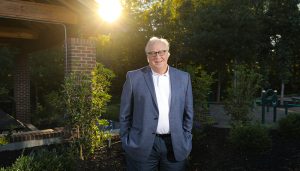 Steve Grant '80 doesn't shy away from telling the story, and you know the ending before it starts. Still, when he's finished no response seems possible."My first son died in 2005 in October, which was not unexpected per se. We had done basically five rehabs, hundreds of thousands of dollars, different schools, and nothing seemed to work for any length of time," Grant says. "So him passing away in the house was unfortunate, but it wasn't the punch in the gut that my second son gave us in 2010 when he died of a heroin overdose after being addicted for eight months."Link to Article | PDF
Dabo's All In Team Foundation – November 2, 2016
Chris and Kelly' HOPE received $5,000 from Dabo and Kathleen Swinney's "All In" Foundation.
The money will be used to support Recovery Campus Programs at C of C and Clemson and to support MUSC' s Center for Drug and Alcohol Programs. download file
Furman News – October 4, 2016
The Recruits:
Furman alumni:
Mark Clary '91, Jay Hatten '01, Dave Ellison '72, Steve Grant '80, and Don Clardy '91
When Dave Ellison '72 and Steve Grant '80 began building a Northwestern Mutual office nearly four decades ago in Greenville, the first and most important task was finding employees with the drive and confidence to start from the ground up. Luckily, they knew just where to look—right up the road at their alma mater.
"I've always felt that college athletes were good prospects for this because they've needed to have coaching," Ellison said. "If they got to become an NCAA athlete, they were achievers. They've had to work hard at something, and this business requires hard work."
Ellison and Grant would know. A standout tennis player under legendary coach Paul Scarpa, Ellison was elected to the Furman Athletic Hall of Fame in 1992, while Grant was a two-time baseball team captain playing for Tom Wall. Over the years, Ellison's recruiting efforts have produced a steady supply of Paladins at what now ranks as the fifth-largest Northwestern Mutual branch in the country. Click here to view article | Link to PDF
State's football coaches gather for a charitable cause
Mandrallius Robinson, Sports Columnist 7:43 a.m. EDT July 27, 2016In about a month, Furman University's Bruce Fowler and Wofford College's Mike Ayers will begin another struggle for position in the Southern Conference. They will contend with South Carolina State's Buddy Pough and The Citadel's Brent Thompson for spots in the playoffs. Clemson's Dabo Swinney and South Carolina's Will Muschamp will open another quest for championships and bragging rights.However, on Tuesday night, the coaches suspended their rivalries and shared the same stage, because they all share the same stance on goodwill.Six of the state's Division I head coaches participated in South Carolina Coaches for Charity at the Hyatt Regency in Downtown Greenville. The annual event was initiated seven years ago by South Carolina native and former Air Force coach Fisher DeBerry.In addition to their respective schools, the coaches raised awareness and funds for their sponsored charities. The causes included Chris and Kelly's Hope which assists adolescents and young adults who struggle with substance abuse, addiction and depression, the Fellowship of Christian Athletes, the Brookland-Lakeview Empowerment Center and Dabo's All-In Team Foundation, which supports breast cancer research and educational enrichment programs. view article
Greenville Journal – July 22, 2016
Heroin's New Face
As the drugs have gotten deadlier, addiction continues its spread into the suburbs… View article | view PDF
Clemson's Heisman Hopeful DeShaun Watson Joins Seventh Annual South Carolina Coaches for Charity
Chris and Kelly's HOPE is proud to be the charity of choice for Furman football coach Bruce Fowler.
Greenville, SC (July 8, 2016) ­– Clemson Tigers quarterback Deshaun Watson, who finished third in the 2015 Heisman Trophy voting, will be honored during the Seventh Annual South Carolina Coaches for Charity on Tuesday, July 26, 2016 at the Hyatt Regency in downtown Greenville. Over 300 guests from across the state will be in attendance. view PDF
Chronicale: Chasing The High – Three Part Series
GREENVILLE, S.C. — WYFF 4's Chronicle investigated the nationwide epidemic that has moved right here in our own neighborhoods.
Chronicle: Chasing the High focused on the serious health problem of drug addiction and its impact on families and communities. The special investigated how heroin has made a comeback among drug users, and what may surprise many is that it has become a drug of choice in middle class neighborhoods.
During the show, and for an hour after, an expert in the WYFF 4 newsroom answered your questions through an online chat.
Rich Jones is executive director of FAVOR Greenville. The name stands for Faces And Voices Of Recovery.
Steve Grant, founder of Chris Kelly HOPE is interviewed in Part 4.
Look Back: Expert answeres questions during live chat
Father's loss inspires mission to save lives with Steve Grant
The father of two young men who died from drug addiction hopes to help other parents avoid the same tragedy. View Interview
Paramus' Steve Grant Turns Heartache Into Help For Those With Addiction
by Chris Langone
05/19/16
PARAMUS, N.J. – Steve Grant was a father of two well-rounded young boys until they both died of drug overdoses five years apart. The Paramus native used his tragedy to establish Chris and Kelly's HOPE Foundation, which provides financial support to programs that treat teens and young adults who struggle with substance abuse and addiction.
"I've always helped people, I've always been supportive and I've always been a giver," said Grant, who launched the non-profit organization that has raised hundreds of thousands of dollars for programs helping kids combat addiction.
Grant recognized the signs of addiction in his oldest son, Chris, who at 21-years-old was struggling with drug and alcohol abuse. The father sought treatment, which resulted in thousands of dollars of resources including rehab, therapy, and private schools. Unfortunately, Chris could not be saved. view PDF
Steve Grant discussing the Red Ribbon Classic
WYFFF News 4's Myra Ruiz
Saturday, May 14, 2016


A day on the golf course aims at saving lives from drugs. The Red Ribbon Classic to benefit the Chris & Kelly HOPE Foundation and the Greenville Family Partnership takes place May 22 & 23. 
University moving toward recovery support for students
By April A. Morris, Published: January 21, 2016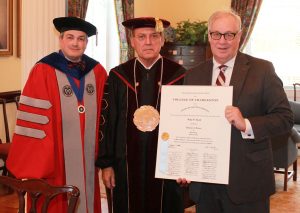 Pictured left to right: Dr. Brian McGee, Provost, Glenn McConnell, JD, President and Steve Grant
Steve receiving his son, Kelly's, College of Charleston diploma posthumously on December 22, 2015.Kelly earned 117 of the 122 credits needed for his Bachelors of Science in Psychology when he died.
When Steve Grant, founder of Chris and Kelly's HOPE Foundation, told an acquaintance that he had been hoping to receive the degree his son Kelly had been working on at College of Charleston, it was spoken in passing.
Grant had lost Kelly to drug addiction in 2010 just short of graduation; and just five years before, his son Chris had died from the same cause.
Grant launched Chris and Kelly's HOPE Foundation in 2012 to support addiction treatment programs for adolescents and young adults, including the White Horse Academy treatment facility for teenagers.
Grant had been talking with Steve Pulley, a 28-year-old student at Medical University of South Carolina, who was in long-term recovery from addiction. Grant had connected with Pulley while he was working with programs to support students in recovery.
"I had commented that I regretted not getting Kelly's degree," Grant said, and was surprised when Pulley "called me two weeks before Christmas and said College of Charleston was going to award Kelly's degree." He traveled to Charleston Dec. 22 to pick up the degree.
"Kelly was a good student and in good standing. It was a great Christmas present," he said.
In addition to raising funds for Chris and Kelly's HOPE Foundation, Grant is involved in helping launch the College of Charleston Collegiate Recovery Program.
College recovery
Steve Grant learned from Steve Pulley about campus recovery programs that support students recovering from addiction. Pulley completed a Ride 4 Recovery fundraiser in 2014, cycling 3,133 miles across the country in 57 days to mark his long-term recovery and benefit his alma mater Georgia Southern University's Center for Addiction Recovery.
College of Charleston is in the early stages of a Collegiate Recovery Program with the support of the administration, Pulley said. When launched, it will be the first in the state, he said. Nationwide, more than 100 programs support students, including Penn State's on-campus program and Vanderbilt University's recovery housing.
The peer-to-peer support offered by these programs is essential and effective, and the programs can also attract out-of-state students, he said. Pulley is now a Medical University of South Carolina doctoral student studying physical therapy. He said he never would have made it to where he is now without the Georgia Southern program.
"It gives college students in recovery the chance to succeed and pursue their dreams," he said.
view PDF
Steve Grant has been named the 2015 "Community Volunteer Leader"

August 29, 2015

Steve Grant has been named the 2015 "COMMUNITY VOLUNTEER LEADER" for the State of South Carolina by the South Carolina Association for Volunteer Administration. Steve will receive his award on September 25th at the Governor's mansion in Columbia SC.
Ribbon Cutting for Serenity Village at Serenity Place

August 19, 2015 was the Ribbon Cutting for Serenity Village at Serenity Place. Chris and Kelly's HOPE supports financially both Serenity Place and The White Horse Academy through gifts to The Family Effect. Today's Ceremony opened 3 houses for transitional extended living for women who have completed treatment along with their children. Houses were donated by The ScanSource Foundation, the All In Foundation and the Family Effect Board.
Chris and Kelly HOPE was a proud recipient at the Dabo's All In Team Foundation 2014 Grant Awards Luncheon
November 12, 2014
Chris and Kelly's HOPE Foundation received a generous grant from Clemson Football head coach Dabo Swinney and his wife Kathleen from their "All In Team" Foundation. Their Foundation has changed lives for the better and will help Chris and Kelly's HOPE continue our mission to help adolescents and young adults who struggle with substance abuse and addiction.
New Park gives recovering addicts a chance to heal – WYFF4.com
April 23, 2014
link to video
Steve Grant received the Upstate Philanthropic Achievement of the Year Award at The 2013 National Philanthropy Day® Awards Luncheon
November 21, 2013
link to photo
HOPE Foundation on WYFF News – Red Ribbon Event Preview
October 19, 2013 – 7am Morning News
Swinney Foundation Helps Moms Battling Addiction
(August 20, 2013- news via Greenville Online.com)
Chris and Kelly's HOPE
Featured in the Community Foundation of Greenville 2013 Report to the Community/ 2012 Annual Report
(July 2013) view PDF
TALK Greenville, A Father's Hope
Written by Chris Worthy | Photographed by David Poleski
(May 31, 2013) view PDF
Greenville Journal, Fighting Addiction
FAVOR seeks to give voice to those in recovery 
(May 16, 2013)
Greenville News, Happy Birthday Memorial
(May 12, 2013)
view image
Greenville Journal – Out of Tragedy, Hope
(April 20, 2012) view PDF
Southern Fried Skeletons, a novel by Ellen R. Rigby
Dedicated to Chris and Kelly
(September 23, 2012) link to website
Rising Above with John O'Leary – Radio Show MP3
(September 12, 2012) listen to podcast
Greenville Journal – Chris and Kelly's HOPE Making Great Strides
(August 17, 2012) view PDF
Press articles require Adobe Acrobat to read.